While in London, Ariana took out her fur jacket to fighet the cold London air. They said fur and high heels were only forthe catwalks but she pull it off amazingly. The overall look is so simple but chic at the same time. Perfect for fall.
Once again, Miss Grande is in my top 5 favourite street style of the month. This outfit was worn arriving at the Heatrow airport earlier this month. You can never go wrong with a fur pea coat and hight heels, right?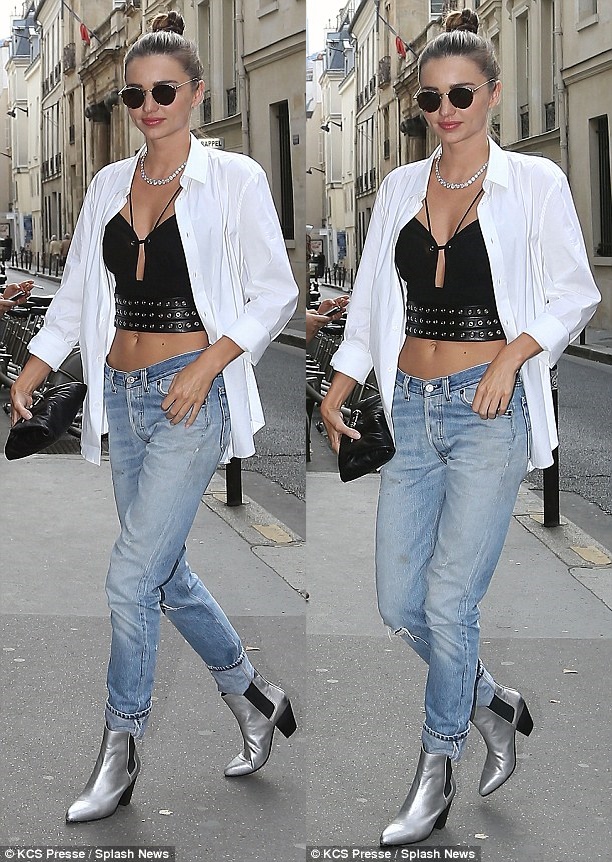 Will she stop being so perfect? Miranda's style amaze me. She can pull off everything. Everything. The distressed boyfriend jeans paired with a more edgy bralette and a simple crisp white shirt thrown over as a cover up and she still manage to look fabulous.
This month like the others, Miss Swift seized to impress me with her outfits. I always struggle to pick my favourite of hers - there's so many fab ones every months, it's insane. That checked matching set she wore to the BBC studio in London to perform for a Live Lounge was one of my favourite. Fall Taylor is my favourite Taylor. That and red carpets.
I love Bethany's simple yet cute outfit she wore when leaving the Dancing with the stars studio for rehearsals. I've recently been loving lighter washed jeans and this striped crop sweater is perfect for a casual fall day. How cute are those kitty ears?